Whimsical Summer Dining: Embrace the Charm of Animal-Inspired Dinnerware
Views : 442
Author : Joyye
Update time : 2023-08-17 12:17:17
Whimsical Summer Dining: Embrace the Charm of Animal-Inspired Dinnerware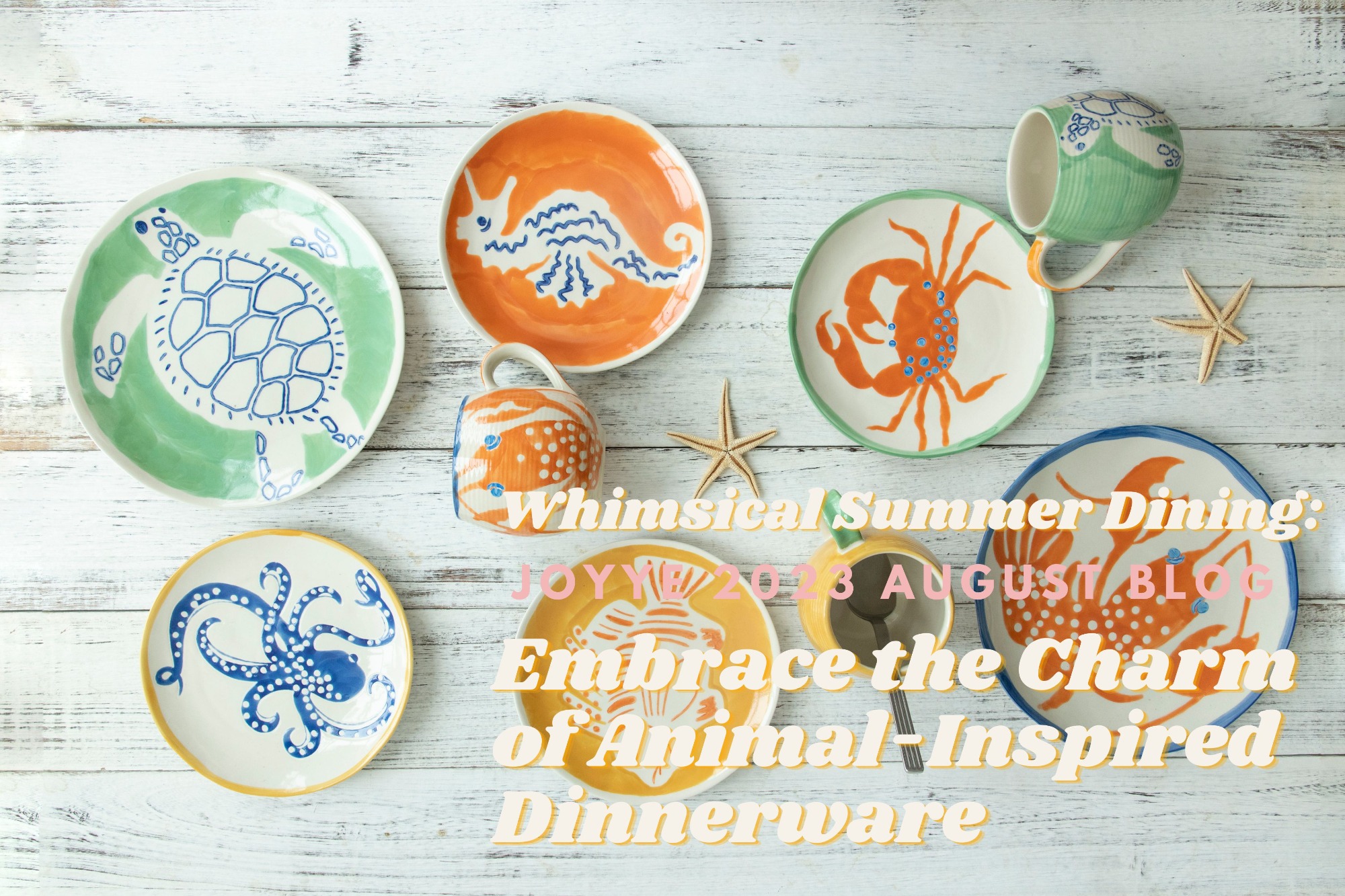 As the warm rays of summer envelop us, there's no better time to infuse a touch of creativity and playfulness into our lives. One delightful way to do so is by transforming your dining experience with the enchanting world of animal-inspired dinnerware. Imagine setting your table with charming dishes adorned with adorable creatures and whimsical motifs, creating an atmosphere that exudes joy and sparks conversations. In this blog, we'll explore the magic behind embracing cute pet-inspired or animal-inspired dinnerware in the summer, delving into the benefits, considerations, and tips to help you craft memorable gatherings.
2. Why We Love it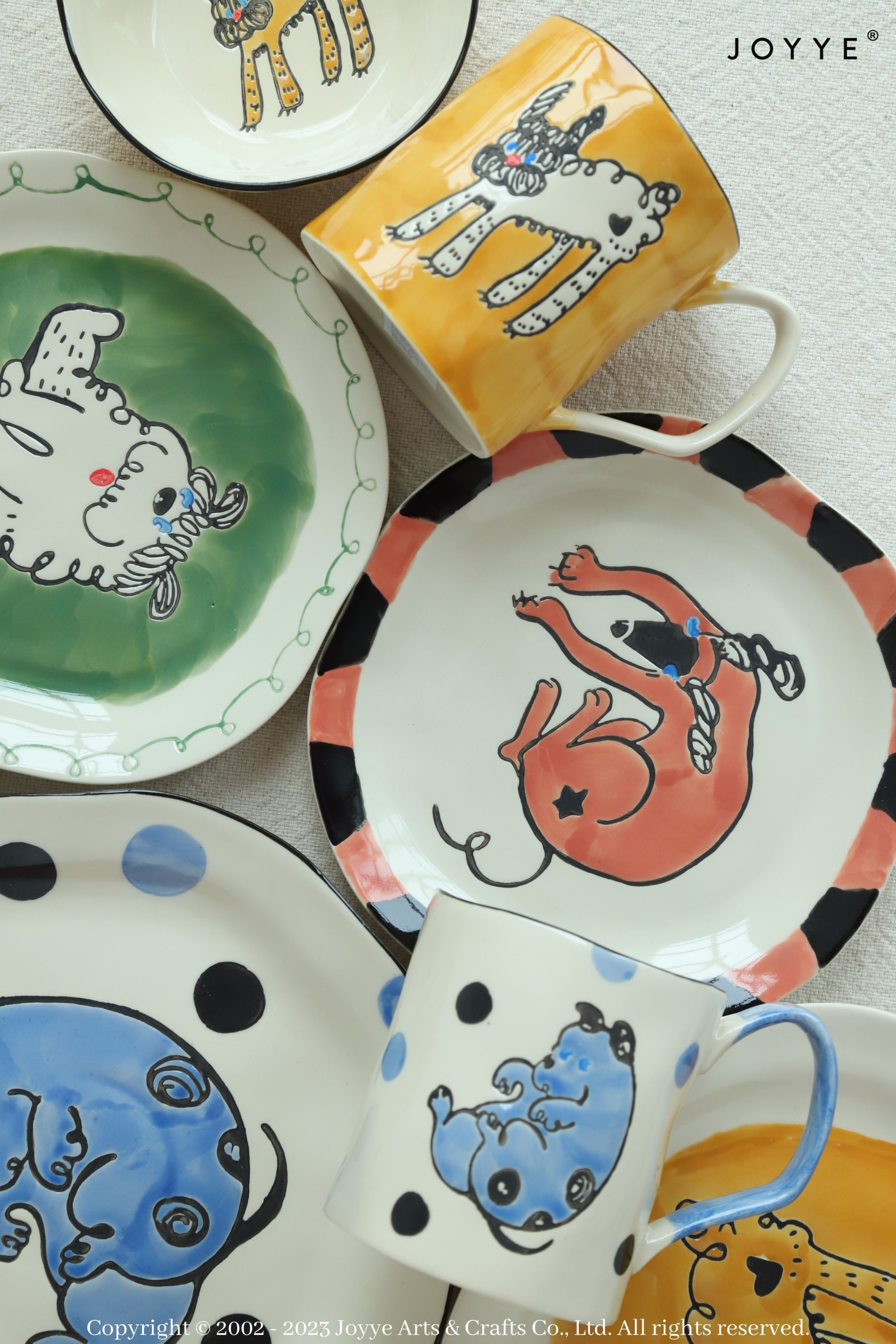 The allure of animal-inspired dinnerware extends beyond aesthetics. Here's why people are drawn to this delightful dining trend:
(1) Biological Responses
Human brains are wired to respond to visual and auditory cues that signify innocence and vulnerability. The cuteness of animals triggers feelings of empathy and care, releasing oxytocin—the "love hormone"—which fosters emotional bonding and connection.
(2) Stress Relief
Interacting with cute animals or their representations has been shown to reduce stress and promote relaxation. Petting a furry friend or enjoying a meal on animal-themed dinnerware can release endorphins, alleviating tension.
(3) Escapism and Joy
In a world filled with complexities and challenges, the simplicity and innocence of animal-inspired designs offer a delightful escape. Setting the table with such dinnerware can transport you to a realm of childlike wonder and joy.
(4) Creating Lasting Memories
Beyond the biological and psychological aspects, animal-inspired dinnerware has the power to create unforgettable memories. Imagine your summer gatherings becoming a canvas for creativity. In this space, conversations are ignited by the charming fox on a plate or the whimsical turtle on a bowl. The uniqueness of your table setting becomes a conversation starter, encouraging your guests to share stories and engage in lively discussions.
3. Tips for a Whimsical Summer Table Setting




While the idea of animal-inspired dinnerware is captivating, a thoughtful approach ensures a harmonious and delightful dining experience. Here are some tips to consider:
(1) Theme Selection
Choose a specific animal or nature theme for your dinnerware to maintain visual harmony. A consistent theme ties everything together, whether it's ocean creatures, woodland animals, or tropical birds.
(2) Balance is Key
Strive for a balance between your chosen theme and the overall aesthetics of your table setting. While animal motifs are charming, they only overwhelm the space with a few elements.
(3) Guest Preferences
While you might be enchanted by animal-inspired dinnerware, it's essential to consider your guests' preferences. Opt for a theme that resonates with the majority and enhances their dining experience.
(4) Quality and Practicality
Invest in high-quality, functional, durable, and durable dinnerware. Look for dishwasher-safe and microwave-safe options that can withstand everyday use.
(5) Coordinated Presentation
Elevate your dining experience by coordinating your dishes with the theme. Serve seafood delicacies on fish-shaped plates or present fruit salads in animal-shaped bowls, adding an extra layer of whimsy.
(6) Accompanying Decor
Enhance the theme with complementary decor elements, such as animal-themed centerpieces, napkin holders, or tablecloths. These details reinforce the enchanting ambiance.
Let's get the imagination sparking! Shaped in cute fishes and hand-painted with different details, this tableware focuses on details and techniques, giving a vivid look. Get started with these lovely plates to serve a good meal.
This tableware collection balances the simple, delicate, interesting, and natural to recall the happy moments of child time. With half-dipped glazes combining matte and shiny, the debossed vessel shapes of sea creatures bring us a vivid scene of a beautiful seaside. The lovely collection brings out our most profound happy memories. It is perfect for casual meals with our family and friends.
Playful Time in Summer! As noticed, these lovely sea creatures are hand-painted on dishes and mugs, glazed in multicolor; this tableware collection creates a lively vibe for your tablescape. It must bring you a good mood and leave you with a good time.
Pet-inspired bowls and plates are so cute! Based on organic shapes and hand-painted adorable animals in glaze-proof, all these dishes and mugs feature unique edges. With such lovely tableware, it must bring some love and a joyful vibe home.
5. Conclusion
As the summer sun paints the world in vibrant hues, let your dining table be a canvas of charm and creativity. Animal-inspired dinnerware infuses your meals with a sense of wonder and joy, connecting us to our evolutionary roots and reminding us of the beauty of simple things. Beyond aesthetics, these whimsical creations stimulate conversations, foster emotional connections, and create cherished memories.
So, go ahead—embrace the magic of animal-inspired dinnerware this summer. Set your table with adorable creatures, let your imagination run wild, and watch your gatherings transform into captivating feasts for the senses.